Welcome to Christ the King Parish
Come Encounter Christ
Joyfully Share His Love
Go Make Disciples
Mass Schedule
Saturdays: 4:00 pm at St Thomas More
Sundays: 8:30 am at St Thomas More
11:15 am at St Vincent de Paul
2:00 pm en français at St. Vincent de Paul
Click here for Daily Mass & Confession times
Livestream Mass
Join us for Livestreamed Mass every Sunday at 8:30 am on Facebook or YouTube. Click here to watch.
Come And See!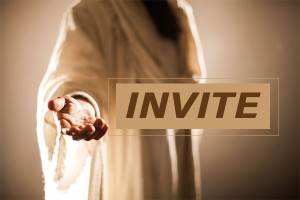 Philip invited Nicodemus to come and see the man from Nazareth who would change his life. We too are called to do the same: invite people to personally encounter this man Jesus that we follow. This can sound like a daunting task. There is help! Sign up for a four-session e-mail video series that helps you discover the process of effectively inviting someone you know to a parish evangelization program. It will also help build your confidence in sharing your faith with others.
While we will focus on how to invite, invoke, intercede, and invest we can take comfort knowing that the Holy Spirit, the principal agent of evangelization, aides us in each of these works and gives us all the graces we need to act courageously.
This video series is free and can be done on your own schedule. Find out more and sign up here: www.halifaxyarmouth.org/invite
Called to Discipleship
With most pandemic restrictions now ended, we are excited to resume many important parish ministries and initiatives. To make this happen, we want to invite you to read the attached document and prayerfully discern which of these vital parish ministries God is calling you to support!
Teams of Our Lady (Fall 2022)
CTK Parish is supporting the introduction of the "Teams of Our Lady", the largest international movement for married couples in the Catholic Church. This organization exists in order to help couples discover the abundant riches of the sacrament of marriage and to live out a real married spirituality. The movement's founder, Fr. Henri Caffarel, affirms that "The Teams of Our Lady have as their essential aim to help couples to strive after holiness – no more, no less". For additional information or any questions you may have, please email is toolhrm@gmail.com The official website/link is: www.teamsofourlady.ca.
Pray for Peace in Ukraine
Daily Divine Mercy on Zoom — Join members of our parish in praying the Divine Mercy Chaplet for Peace on Zoom at 3pm Monday through Friday during Lent. Register Here to get the Zoom link.
Donate — Anyone wishing to make a donation in support of Ukrainian Relief can do so through Chalice, or by making a donation to our parish, indicating Ukrainian Relief Fund.
Financial Summary
The 2021 Financial Summary for Christ the King Parish is now available, which you can read here. The parish finished the year in a surplus situation, largely because of the Federal Government Wage subsidy, plus increased room rental revenue associated with the Federal Election and the reduced Archdiocesan Assessment. Thanks again to all of our generous parishioners, and to the Holy Spirit for guiding our mission and finances. Please direct any questions to Chris Yetman (chris.ctkdartmouth@gmail.com) or to Robert MacDonald (macdonaldrj@gmail.com).
CTK Pastoral Plan
Throughout the month of February, our new 3-Year CTK Pastoral Plan was presented to parishioners through a series of virtual Town Halls. Almost 200 parishioners participated in English-speaking town hall sessions (including one with an interpreter for our deaf community members), a children's session, and a French session. To watch the videos and learn more about the feedback we heard from you, click here.
More Important Events & Links
Contact Us
902-435-2500
Email Us

For our office hours, contact information, or to fill out a contact form, click here.